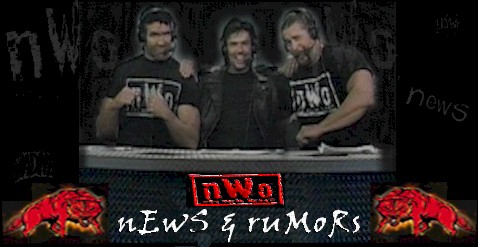 In WCW related news, yesterday was officially the day Paul Wight's (ex-nWo member) contract ended with WCW and immediately signed with the WWF and began working with the WWF as 'Titan'. Paul Wight along with Jim Ross represented the WWF at a toy show in New York. Wight is heavily rumoured to show up this Sunday at the Valentines Day Massacre PPV and will definetly be in by the Raw taping on Tuesday February 16 at the latest. Vince threatening to fire all of Team Corporate if they interfere in his cage match with Austin this Sunday could very well be the set up for Titan's debut, however often the WWF likes to bring in new stars on Raw where it can play an impact on the ratings. I would bet on seeing Titan this Sunday as he is expected to play a major role in Wrestlemania this year. Wights contract is worth just under a million dollars a year which is less then Austin and Michaels contracts; but more then the Rock and Mankind's current contract. A photo of the Giant at Titan Towers along with the WWF.com article on his signing is now available at WWF.com and iwrestling.com.
Hogan is very reluctant to do the job at Superbrawl to Flair. The company wants him to drop the title and allow Flair to have a final title reign. That would make 14. Hogan isn't interested in this plan and as of press time won't lose.
Look for Rey Misterio Jr. to lose his match at Superbrawl therefore costing him his mask. He is set to lose his mask in Mexico against Phycosis in a mask vs. mask match; and Nash promised him that if he lost his mask; he could join the Wolfpack. Also during that match don't look for too much involvment from Luger. He tore some muscles in his arm that require surgery to repair. Expect him to hardly step in the ring for the Superbrawl contest; and then have surgery. He will be out for about two to three months.
WCW has offered a major contract to Jericho who is my personal favorite in WCW and I think that WCW should do anything to re-sign that young talent....and they did a pretty good job yesterday. The contract is just under what Bret Hart, Scott Hall, Kevin Nash, Lex Luger and Sting make in money value. There is no word on if there is any creative control or push clauses in the contract; however if there is, I would expect Chris to re-sign. If he doesn't do it now; then he may hold off until his contract is up where he can get an even better deal with pressure from the WWF's deal and interest. Negotiations and talks between Jericho and WCW are ongoing as we speak.
Now everyone keeps asking, when's Sting coming back. Well, Sting has been backstage at recent Nitro's, including this past Monday's. He has not been used though. Sting said that he expects to make his return to TV in either the middle of March or April. He said that he has not heard any definite date himself, so anything that people are saying is just speculation. Even if a date had been set, things change very easily. So as of right now, Sting is expected back on WCW TV in mid-March to April.
---
OTHER NEWS
- The girl who led the camera man into the hotel room on Nitro and Thunder this week is Tori Wilson from a ESPN bodybuilding show. She is expected to be involved with the Scott Steiner/DDP angle and is the first in a series of women that Kevin Nash wants to bring into the company.
- There is talk that Yokozuna could sign with WCW in late 1999. He is currently working independent dates in California. The reason he may sign is because Hogan wants to defeat him the same way he did the Warrior; as both held WWF victories over him.
- The status of Sid will be interesting come this April. ECW wants to keep him and give him a title push; as well as a lot of credability to the ECW PPV market and ECW talent. WCW may be interested in him to fulfil the big man role that the Giant left. Finally Sid had good times in the WWF and may be interested in returning there. The only problem is with the Giant, UT and Kane all in the promotion; there isn't much more need for a big man in the WWF. Sid's ECW contractis up in April at which point he will likely play softball. After that we could see him turn up in the big two as he was very over with the fans, has no problems jobbing, and doesn't ask for a lot of money. He still has a negative political connection in WCW over the Arn Anderson scissor fight from years ago.
- Buff Bagwell is now ready to compete physically in the ring. Expect him to return to wrestling within the next couple of months. His first feud will likely be with DDP.
- Sick Boy is still in talks with the WWF. Wrath and Scotty Riggs have both re-signed with WCW as did Ed Leslie. Ultimate Warrior is still not under contract with WCW. He isn't expected to return. Savage should be back in a month's time. Sting was backstage this Monday and should return at Superbrawl or the night after. - Goldberg has been offered his own television series on TNT. It is unknown if he will except.
- Dateline featuring Bret hart and Eric Bischoff will air against the WWF pay per view on February 14. It will talk about Bret Hart and Surviour Series. Bret will also be writing a book on the same subject. - Micasa reports that we will be seeing 8 more Nitro Girls added to Nitro.
- The ratings are in for this past Monday. The dog show which aired on USA Network earned a 3.5 against Nitro's 5.2, 6.0 and 5.9. Heat earned a 4.5 rating.
- Bill Goldberg's appearance date was set for this Friday, 1/11 but apparently that has changed. Goldberg will now be appearing on the Tonight Show next Friday, 1/19.
- According to the WCW Hotline and Curt Creighton, Goldberg has rapped up his role with Jean-Claude Van Dam in "Universal Solider 2" the movie will be released in August
- Wade Keller has also confirmed it final that Goldberg will not be appearing on ER. ER tapes the same day as Nitro which WCW did not want. They wanted him to be on hand for Nitro so he had to say no.
J.O.B. MAN'S THOUGHTS
How embarassing it must have been this week for Bret Hart to job the US title to Roddy Piper with the help of Sasso of Mad TV. Piper who has one artificial hip and is in the need for another defeated Hart and is the new US champion. Bischoff feels that Bret should get a push to justify his large contract. Nash feels that Bret isn't over and should put other talent who is over by jobbing. Bret is expected to play a big role in the Toronto Nitro; but if the crowd response and ratings aren't there; Bret's career could be in serious trouble.
I am really enjoying the angle between Kim and Steiner. The stuntwoman was a great idea and really added some controversy to the show. I am glad to see the new direction of Nitro, however I think they need to look at other aspects of their program as well. Bigalow is a great worker and really could be a flag bearer into a new WCW direction. Guys like Jericho, Benoit, Raven, Misterio, and Kidman are essential to develop fresh youthful angles and athletic matches. Wrestlers who are over like Sting and Savage must return to television. The NWO A team and B team is a good angle for now; but in a few weeks it will be old. Allow the Harlem Heat to be reformed. Give Norton a push. Try and give Bryan Adams a new gimmick. The current wolfpack is alright; but eventually they have to ditch the white and black. Finally really push the Flair/Bischoff angle. I find it hilarious. If Flair is champ when Bischoff returns to having power; that sets up some great angles. WCW is on the right track; however guys like Hogan, Piper and Bret Hart are not going to be competitive with the current WWF Attitude. Bigalow, Jericho, Goldberg, Sting, Kidman and Flair are really the keys to WCW sucess.
This report is done by the J.O.B. man and rumour credits go to Iwrestling and to Top Turnbuckle Wrestling. Organized by DOCTOR TNT.